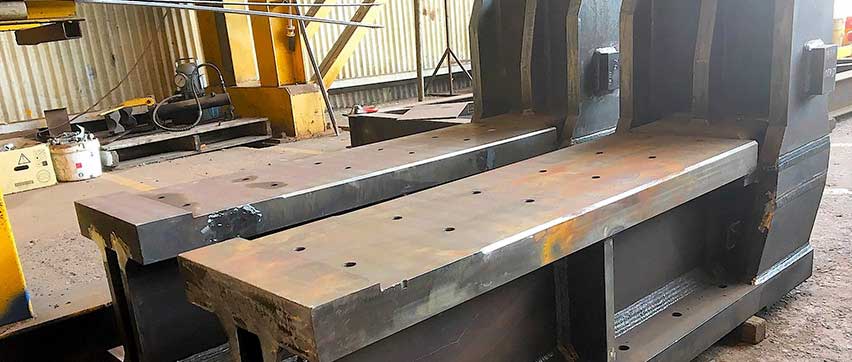 Heavy Steel Fabrication
Solutions and seamless executions are the name of the game. As Australia's turnkey steel fabrication solution, Gadaleta Steel Fabrication has been delivering on these promises for energy producers, transport, construction, mining and minerals processing clients for almost 30 years. We stand by our guarantees to provide solutions for building anything in steel.
On site fabrication at our Wyalla workshop, which is one of the largest in the region, is geared for the highest quality control and efficient turnaround times, followed by seamless on site delivery, installation and maintenance as required. No matter where you are throughout Australia, we cater for any size job including:
● Computer cutting, large roller and press.
● Off site fabrication including structural steel, pipe work, ductwork, access platforms, machine guarding and vessels of all shapes and sizes.
● Heavy plate fabrication.
● Structural steel fabrication.
● Pipe fabrication.
● Tank fabrication.
● Stainless steel fabrication.
● Hoppers, furnace components, dampers, fan housings, chimneys and flues.
● Specialist welding and welding of pressure parts, heat exchangers and cubicles.
We know how important it is for our clients to have the least amount of down time. Our delivery model is guaranteed through the framework of our multiple Certifications and world class Health, Safety, Welfare & Environmental Management Policy. These measures ensure that our in house and on site execution is rigorously managed through each incremental step in regards to materials, plant and personnel.
Contact our team today to talk through your project and how we may be able to support your outcomes.
Getting Started
Gadaleta Steel Fabrication is a turnkey service for the heavy industry, commercial and mining sectors that seamlessly intertwines everything from design to construction, installation and maintenance. With Managing Director, Sam Gadaleta, as your main point of contact, our family centred ethos and Certification benchmarks, there's nothing we can't help you with when it comes to steel.

Steel Fabrication

Site Preparation

Structural Steel Erection

Equipment & Conveyor Systems Installation

Ongoing Plant Maintenance

Plant Removal

Dump Truck Tray Rebuilds

Shutdowns

Cranage & Rigging

Scaffolding

Engineering

Sandblasting & Painting

Structural, Mechanical & Civil Contractors

Labour Hire

National Fabrication Service
BOOK A CONSULTATION