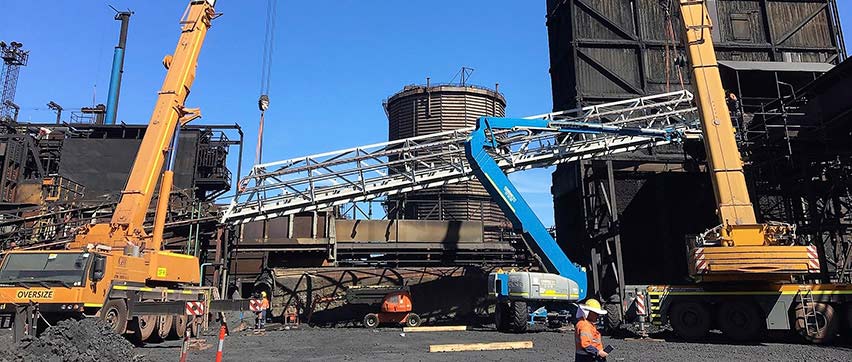 Site Installation & Maintenance
From fabrication to on site construction and installation of plant and equipment, we offer complete project solutions right through to cranage and rigging, contractors and labour hire so that you don't have to think much more about it once you've handed the job over to us.
Throughout South Australia we execute site preparation, structural steel erection, equipment and conveyor systems installation, ongoing plant maintenance and shutdowns, construction and project management, commissioning and decommissioning of plant, small repairs and complete dump truck tray rebuilds. Unique to Gadaleta Steel Fabrication is our rigorous ISO & SCA Certifications. We know how important it is for our clients to have the least amount of down time and the only way to be able to guarantee this, along with the highest quality output, is to embed these strict standards across our business for both in house and on site work.
The award to Certification is many months in the making and, once achieved, shows that company-wide planning, policy and execution has been ingrained into every level of business, including company leadership, customer needs, employee wellbeing and engagement, improvement measures, evidence-based decision making and relationship management. This means that seamless, safe and quality execution has been taken to its farthest point to ensure you receive the highest industry standards available.
Our expertise is extensive, no matter what your site needs are, don't hesitate to get in touch with us today to learn how we can work together.
Getting Started
Gadaleta Steel Fabrication is a turnkey service for the heavy industry, commercial and mining sectors that seamlessly intertwines everything from design to construction, installation and maintenance. With Managing Director, Sam Gadaleta, as your main point of contact, our family centred ethos and Certification benchmarks, there's nothing we can't help you with when it comes to steel.

Steel Fabrication

Site Preparation

Structural Steel Erection

Equipment & Conveyor Systems Installation

Ongoing Plant Maintenance

Plant Removal

Dump Truck Tray Rebuilds

Shutdowns

Cranage & Rigging

Scaffolding

Engineering

Sandblasting & Painting

Structural, Mechanical & Civil Contractors

Labour Hire

National Fabrication Service
BOOK A CONSULTATION